Galle is one of the most popular tourist destinations in Sri Lanka. So we thought we'd let you know that on a trip to Galle, you'll not only be confined to the Galle Fort but also visit several other nearby locations. See how many of these places you've been to.
#1. Jungle Beach / Rumassala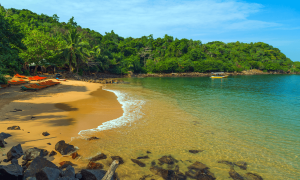 Rumassala is one of the most beautiful jungles in the Galle area. There are many medicinal plants in Sri Lanka in this area. Rumassala is famous for its beautiful beaches. We also call it Jungle Beach. It's a beautiful beach. The jungle you have to go to is the Rumassala forest. The trip to the beach in the middle of it was really fun. We have to hang out in the vines with our friends, jump over trees and rocks and get there. So, to get that experience, you have to go there.
#2. Go see the whales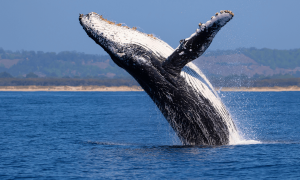 It's a really fun activity. Because we say so, Sri Lanka is an island surrounded by the sea. So there are a lot of sea mammals all around us. If you go to Galle, you can definitely see whales from Mirissa Beach, the naval port or Dewundara Point. Many hotels in Galle offer guests the opportunity to have this experience during the holidays. Don't forget to get on the boat and go to the middle of the sea and say hi to some big size whales. Most whales can be seen between April and November. Don't forget to carry a binoculars. Like whales, you may even see dolphins and blue whales. Also, if you get sick in the middle of the sea, do not forget to take your medicines.
        Sri Lanka Navy Whale watching Contact Number:
 077 732 3050
#3. Galle Dutch Fort / Lighthouse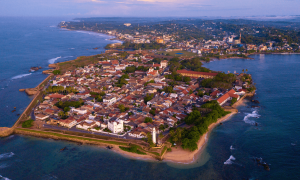 This fort gives a unique interpretation of the history of Sri Lanka and is a must-visit place for anyone visiting Galle. You can still see the remains of some of the administrative buildings in this majestic fortress. It is a place where you can visit 24 hours a day without any interruptions and spend time walking around, learning about beautiful architecture and visiting the National Maritime Museum. Also, going to see the lighthouse built around 1939 to give signals to sailors is an easy task for anyone traveling to Galle. This is the oldest lighthouse in Sri Lanka.
If you go to the Galle Fort, there are beautiful places to see.
#4. Unawatuna Beach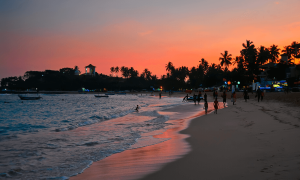 This is a place that a lot of foreigners like to go to. The beach can be reached in about 15-20 minutes from Unawatuna town. When you go there, you will see that this is the most beautiful beach in Sri Lanka. Great place for some sniper teams to camp. The people who provide you with life support are also ready.
#5. Boating on the Madu River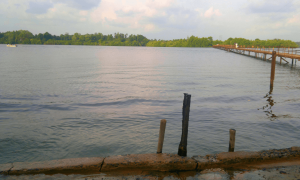 No matter how many boat trips you make, this is bound to be an unforgettable ride. Why do we say that? You will realize it when you board a boat on the beautiful Maadu river. Surrounded by 990 hectares of wetlands, the Madhu River spans 770 hectares and is made up of 64 islands. Here you can float freely on a riverbank surrounded by trees and see a lot of wet zone plants. Fish therapy opportunities are another option for boaters on the Madu River. This is why most people go to the Maadu river. If you want to experience more than a hundred fish coming and going around your legs, you have to go there. They have specially prepared fish cages.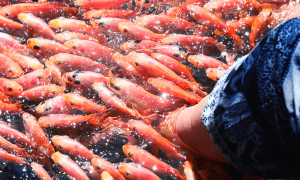 #6. Sinharaja Safari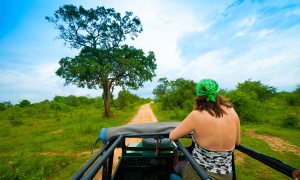 Don't forget to visit the Sinharaja World Heritage Site. This is natural wildlife and bird paradise. You can also go on a safari on the Galle side of the Sinharaja site. It takes about two to three hours to reach the southern part of the Sinharaja forest from Galle. Safaris are allowed from 6.30 am to 6 pm. This is a very popular place among foreigners.
If you are going to Deniyaya, there are 07 beautiful places to visit.
#7. Kanneliya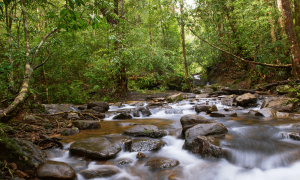 Kanneliya is one of the most beautiful forest reserves in the village of Nakiyadeniya in the Southern Province. This area is considered to be one of the richest vegetation areas in South Asia. Apart from Sinharaja, it is also the largest remaining rainforest in Sri Lanka. When you visit here you can see how beautiful this reserve is. You can see natural waterfalls, animal species, many species of snakes and a variety of plants. This reserve is about 35 km northwest of Galle town, which is towards Hiniduma. The Gin and Nilwala rivers are also connected to this reserve. You can also visit the Anagimale Falls. Great place for some hiking. There are also several natural swimming pools in Kanneliya.
Then you also must go to visit the beauty of Galle.