Think for a moment, how would you feel if you suddenly got lost in a forest? It can make you very nervous at times. That is normal. At such a time, many questions may arise in you like whether there are wild animals in the forest, how to escape from them and save your life, whether someone will come to save you, how to quench your hunger, etc. There is no doubt about that. So every decision you take in this kind of situation is very crucial.
The safety of your life is determined by what you do at such a time. So, this article will be very important for you to win the adventure of survive from wild animals and returning home.
So, the following are the best and main things you can do when you get lost in a jungle. If you like, hurry to make the right decisions with the following things. That way you can ensure your life safety.
At a time like this first, you need to calm down. Because at this time you have faced a very critical situation. So take the best decision you can take at this time. Because you are worried at this time, it means that your ability to solve problems is limited. And you need to spend some time to calm your mind before taking any action. There is no doubt that it will be a great help in finding solutions to your problems.
Now you have to stay where you are. Because if you start walking around, you can get lost even more. So stay where you are now. Now mark this place with a sign so you don't forget it. For that, you can make an indelible mark on a nearby tree. Make this mark using something like a pebble. That is the easiest way for you. After you've marked where you are, you can go a little distance from there. Because if you want to find food and water to protect life, you have to go a little further from there. Now you have marked where you are staying. So you can go some distance from there to find food and water. It will be essential for you in this adventure.

At the same time, if you can climb as high as you can. That way you can see if there is a village, a place where people hang out, or someone you can ask for help. It can also really help you get back home faster.
If someone doesn't come to save you suddenly today, you will have to spend a night in the jungle. So you have to protect your life first. To protect yourself from wild animals, you have to find a suitable place to spend the night. So now, see if there is a suitable cave or tree branch near you where you can spend the night. If you don't find such a safe place, you have to arrange a temporary shelter where you can spend the night.
So, you can follow the steps below while arranging temporary accommodation.
Lower a large branch of a tree and tie the end of that branch to the trunk of another tree.
Place small branches at a 45° angle along the larger arm lowered like this.
Next, cover the entire prepared structure with leaves and twigs.
You can use the following method also for this.
    First, you need to find about 10 thick pieces of wood about five feet long. Draw a circle on the ground using a piece of wood about three feet in diameter. Now place the 10 pieces of wood that you have arranged, along the circle so that the distance between two pieces of wood is equal. Now tie all the top corners of the pieces of wood planted along the circle together using something like twine. Now cover the structure you have made using leaves. (You can enter this structure through these pieces of wood)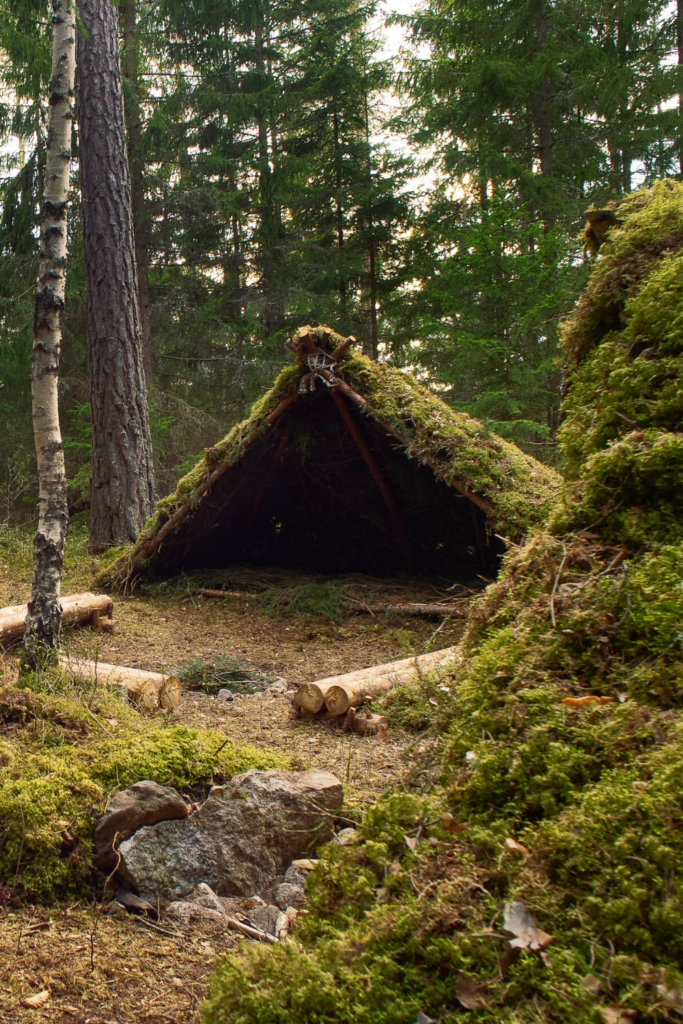 Now a temporary shelter has been arranged for you to spend the night. You can now use this to spend the night.
Important :
The forest is very cold at night. So take care to protect the clothes you have so that you can stay as warm as possible.
When you are lost in a forest, you have to survive first. That means we must find food and water to survive. Now you must first quench your thirst. For that, find a pond, a stream, or a water source that is a little far away from the place where you have arranged your shelter. Do not drink the water you have found immediately. Because this water may contain various bacteria, toxins, or waste materials. So you should purify this water before drinking it. For this, you need to create a fire. If you have matches or a lighter to start a fire, boil the water you found for at least 5 minutes before drinking. Drinking water that has been purified by boiling in this way will help prevent you from getting sick.
• Reserve drinking water directly from a river, pond, or spring, without purification, for emergencies only. Because it can make you extremely sick. It is difficult to find medicines in the forest in case of sudden illness. Therefore, preparedness before risk strengthens your security.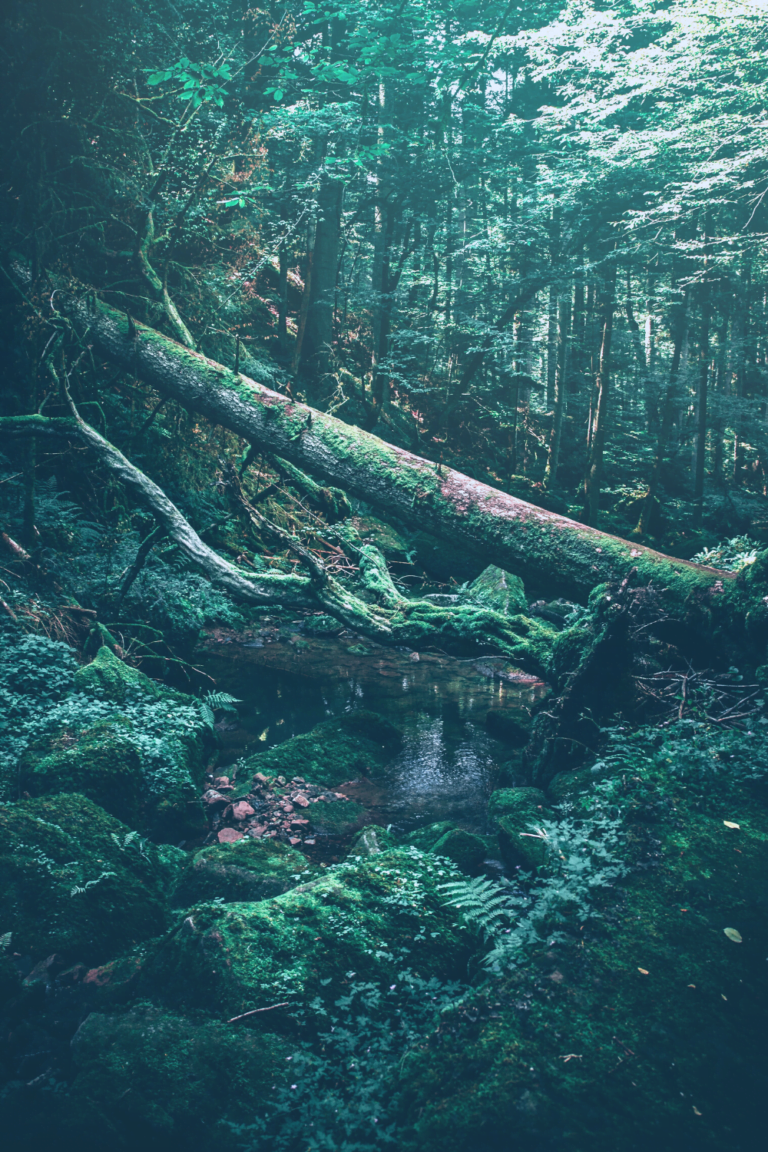 You need a fire to keep warm, purify water and prepare food. Having a campfire is also valuable for protection from wild animals during a night in the wild. Because animals are afraid of fire. So by lighting a campfire, you can spend the night in the forest without fear.
Now collect as many dry leaves, dry twigs, dry wood pieces, etc. as possible, which you can use to light a fire. If you have a match-box or lighter with you, you can start the fire very easily. But if you don't have a match-box or a lighter you can use the fire plow method. To use this method, rub two pieces of dry wood together until the friction creates smoke or sparks. Be sure to blow gently on it until it ignites. Then you can easily light the fire. Try to keep this bonfire lit till dawn by adding dry wood, leaves, etc.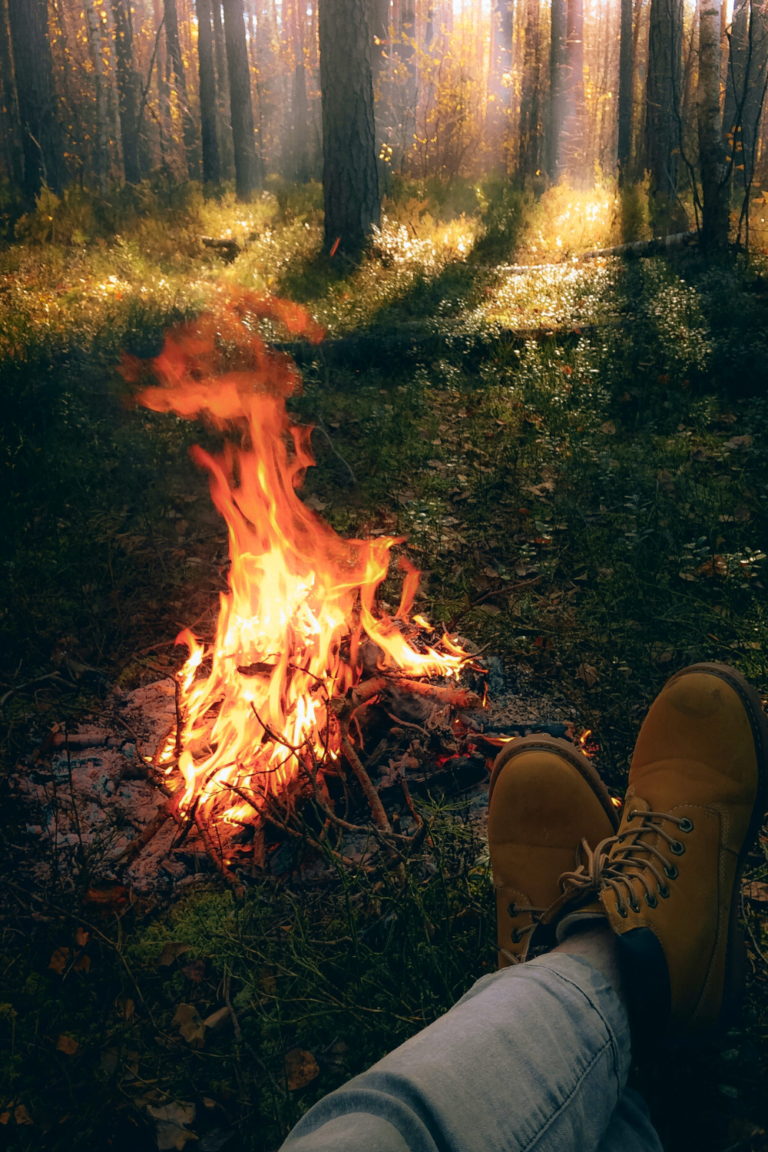 Being hungry is very difficult. So now you have to find something to eat. We cannot eat everything in a forest. Because many things in the jungle are poisonous. Avoid eating different types of berries and mushrooms. Because there are plenty of poisonous berries and mushrooms in the forest. So look around for things like acorns, walnuts, and onions. Also, avoid eating them unless you are absolutely sure they are safe to eat.
Because it is better to starve than risk your life by getting sick by eating dangerous food. So avoid eating risky things as much as possible and save your life.
important :
You can also catch fish to satisfy your hunger. You can catch fish from a river or pond to eat. So the easiest way to catch fish in the jungle is the spiked fish spear.
The easiest tool to use to catch a big fish is the fish spear. So before catching fish you must make a fish spear.
How to make a fish spear?
Find a long stick for you to use as a spear. (You can also use bamboo for this)
Cut the hair crosswise at the tip using a knife. (The ends of the stick are then separated into four individual loops)
Wrap them in twine to keep them separate.
Now stand on a rock overlooking the river or stream you just discovered.
Now stay calm until a fish comes into striking range for you. Once the fish comes up, spear it to catch it.
Now you have to cook your caught fish before eating it. Fish is cooked before eating to minimize risks. This is the best way to get rid of bacteria and parasites in the fish.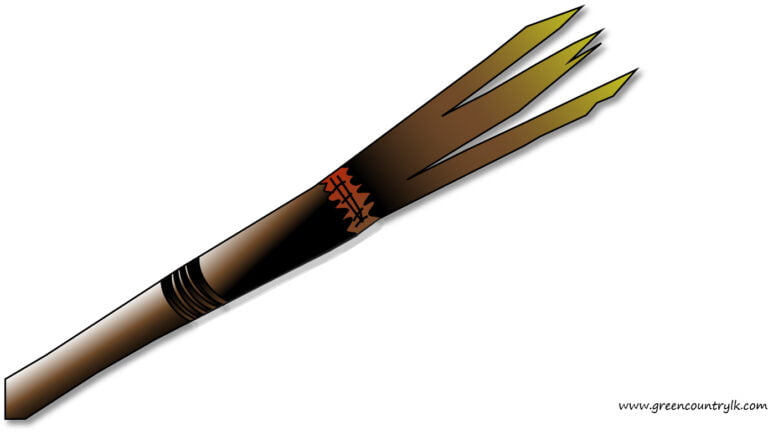 Below is a simple method that can be used to cook fish.
First, find 8 pieces of wood about a foot long from your surroundings. Now plant 4 of those pieces of wood squarely on the ground. Now, attach the other 4 pieces of wood to each other on top of these four pieces of wood. Now hold more pieces of wood crosswise over the square box. Now place your caught fish on it. Now light a fire under it. Next roast the fish for a few minutes as per your requirement.
Now the fish you caught is ready for you to eat. It can satisfy your hunger.
What should a person lost in a forest be protected from?
Mosquitoes

Sunlight

Dehydration

Slippery rocks

Fallen trees
A person who is lost in the forest must be careful of the things mentioned above. Spending a day or two in a jungle is really dangerous. So protecting yourself from the above-mentioned careless things will help you to survive in the forest without any problem. So be safe from the above as much as possible.
As well as, if you are alone now, avoid doing very risky things. Because at this time you have to be very careful.
So if you get lost in a forest, you can follow the above steps. Definitely, it will ensure the safety of your life.
As well as don't forget to craft a tool or weapon out of something while following the steps above. Because spending a night in a jungle is a very dangerous thing. So it will be useful for you when procuring food and protecting you from sudden wild animal attacks.
If you wish, you can ensure the safety of your life by following the above measures properly. And it will make it much easier for you to find your home back quickly.