Organic fertilizers can be produced naturally. Fertilizers are defined as substances that can be added to soil or plants to provide nutrients and sustain growth.
You can get excellent results by using these organic fertilizers in your daily farming activities. These organic fertilizers increase the texture of the soil and help the plants to retain water in the soil for a longer period of time. And organic fertilizers increase the activity of bacteria and fungi in the soil. And by using that fertilizer, the growth of your plants as well as the nutrients in the soil are dependent on the same without depleting.
The use of artificial fertilizers is harmful to plants as well as to the soil. But using organic fertilizers can ensure the survival of plants as well as the soil.
You can also prepare organic fertilizers for your cultivation at home. It is also a special thing that you do not have to bear an expense for that. You can make organic fertilizers in your home by using most of the kitchen waste.
You can make organic fertilizers at home as given below.

1. Composting: Start by collecting organic materials such as kitchen scraps (fruit and vegetable peels, coffee grounds, eggshells), yard waste (grass clippings, leaves), and other plant residues. Avoid using animal products, as they can attract pests. Mix these materials in a compost bin or pile and turn regularly to promote decomposition. The aerobic breakdown of these materials over time will result in nutrient-rich compost, which can be used as an organic fertilizer.
2. Vermicomposting: Another method is vermicomposting, which involves using earthworms to decompose organic wastes. Set up a container or bin filled with moist bedding material like shredded newspaper or coconut coir. Add organic food scraps and keep the bin in a cool, dark place. Red worms will consume the organic matter and produce nutrient-rich worm castings, which can be used as a valuable organic fertilizer.
3. Manure-based fertilizer: If you have access to livestock manure (from herbivorous animals), it can be used to make a nutrient-rich fertilizer. Mix the manure with straw or other carbon-rich materials to create a compost pile. Turn the pile regularly to promote decomposition and eliminate any potential pathogens. Allow the pile to age for several months until it breaks down into a crumbly texture. This aged manure can then be used as an organic fertilizer.
4. Comfrey tea or nettle tea: Comfrey and nettle plants are rich in nutrients such as potassium and nitrogen. To make a liquid organic fertilizer, collect comfrey leaves or nettle leaves and steep them in water for a few weeks. The resulting liquid can be diluted and used as a foliar spray or poured directly into the soil to provide a nutrient boost to plants.
Unlike chemically synthesized synthetic fertilizers, organic fertilizers provide a sustainable and environmentally friendly solution to improve soil fertility and promote plant growth. Organic fertilizers are more popular among people nowadays than synthetic fertilizers. This is because the negative impact of synthetic fertilizers on soil health, overall ecosystem balance and water quality is greatly affected. Using organic fertilizers instead of synthetic fertilizers provides many benefits to plants and also gives you long-term sustainability in agricultural practices.
Organic fertilizers contain essential plant nutrients like nitrogen, phosphorus, and potassium. In addition to these nutrients, organic fertilizers containing nutrients and micronutrients promote plant root growth, flowering, and fruit production.
In addition to this nutrient content, organic fertilizers also stimulate microbial activity, which plays an important role in soil fertility. These soil microbes break down organic matter into simple nutrients that can be easily absorbed by plants, improving soil structure, nutrient availability and overall plant health.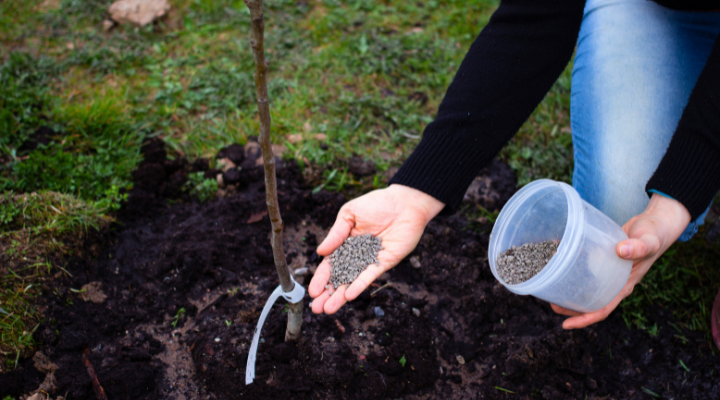 The main advantages of homemade organic fertilizer are given below.

1. Cost-effective: Making organic fertilizer at home can save money compared to purchasing commercial fertilizers.
2. Sustainable and environmentally friendly: Homemade organic fertilizers utilize recycled organic materials, reducing waste and promoting sustainable practices. They also minimize the use of synthetic chemicals, reducing the negative impact on the environment.
3. Nutrient-rich: Organic fertilizers provide a wide range of essential nutrients, secondary nutrients, and trace elements necessary for plant growth and overall plant health.
4. Improved soil structure: Organic fertilizers improve soil structure, water-holding capacity, and nutrient retention, leading to healthier plants and reduced soil erosion.
5. Enhanced soil fertility: Homemade organic fertilizers promote the growth of beneficial soil microorganisms, which contribute to nutrient cycling, organic matter decomposition, and overall soil health.
6. Reduced chemical exposure: By using homemade organic fertilizers, you can limit exposure to synthetic chemicals found in commercial fertilizers, ensuring a healthier and safer environment for plants, animals, and humans.
      Remember to follow proper guidelines and maintain hygiene while preparing homemade organic fertilizers. Consult local gardening resources or agricultural experts to understand specific requirements for different plants and crops.