A llama is a horse-shaped animal with a fur coat. We can see llama animals in different colours like brown, gray, white, and black. These animals live in herds and sometimes live alone. Their body is soft and furry.
Homeland and History of the Llama
It is reported that these animals were found in the Great Plains of North America about forty million years ago. But then reports also state that they migrated to South America about three million years ago. Furthermore, it has been revealed that they became extinct in North America by the last ice age. Currently, in addition to South America, they mostly live in Bolivia, Chile, and Peru.
They are a group of animals with very soft fur. On average, a llama grows from 150 cm to 180 cm. That is, a fully grown llama is about 5 or 6 feet height. A fully grown llama usually weights between 135 kg and 200 kg. They live in herds and sometimes live alone. Llamas have a variety of colours including black, gray, brown, and white.
They live in mountainous areas. Nowadays, many people are motivated to keep llamas at home. Llamas eat grass and a variety of leaves. It is also reported that the lifespan of a llama is about twenty years. Although their lifespan is limited to twenty years, some lamas have lived up to 30 years.
Nowadays, llamas have started to be bred commercially. That is, llamas are raised for companion animals, fur, fertilizer, and shows. And llamas are also raised to protect animals such as goats and sheep from predators and act as their guardians.
It can be confirmed that llamas are very calm, as many people say. Nowadays, llamas are also used as therapy animals. That is, llamas can be trained as a therapy animal to work in hospitals and schools. And information has been revealed that thousands of llamas are used for meat every year in South America.
Llamas communicate with each other by making the sound of 'humming'. Llamas can spit up to ten feet away. In some cases, the saliva of llamas is green. Experts believe that llamas usually spit to settle an issue between them regarding food and to decide which llama is dominant.
Llamas frequently do not spit on humans except when they are angry with them.
• The only predator of the llamas is the South American mountain lion (puma). It has been reported that cougars and bears in North America are also predators of llamas.
Important:
A single llama gathers about six female llamas in its territory. Later, the llama aggressively chases away all breeding-age males that enter the area. Llamas typically mate in late summer and autumn. A llama's pregnancy lasts between 350-360 days.
Likewise, It is special that every year, a female llama gives birth to a baby llama. Check llamas productions on Amazon in this link.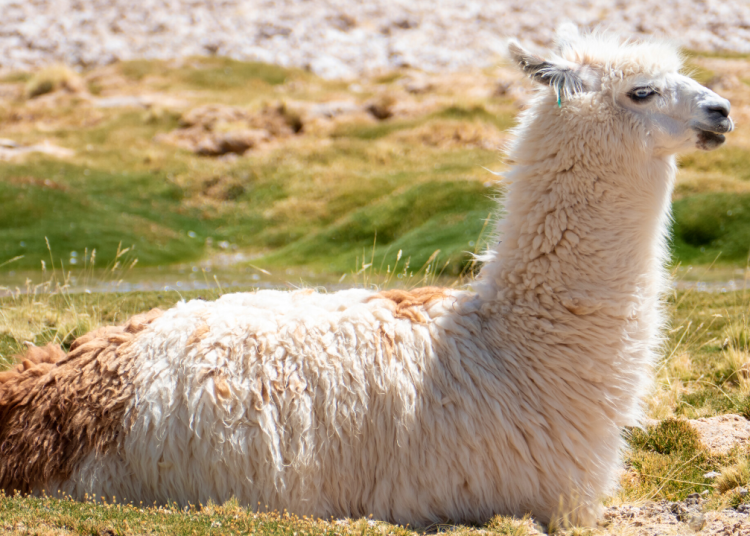 Baby llamas are called 'cria'. A baby llama can walk and suckle milk within an hour of their birth. A newborn llama weighs about 10 kg on average. Until about one year of age, the cubs are cared for and protected by their parent llamas. Female llamas become reproductively mature between 18-24 months, and male llamas take about 2 years to become reproductively mature.
Llama Population Around the World
At present, information has been revealed that the population of llamas in South America exceeds seven million. Moreover, the population of llamas living in Canada and the United States is about 158,000.

• Relatives of llamas include camels, alpacas, and guanacos.
What is llama fur used for?
The fur of llamas is soft, warm, and lightweight. Their wool is used to make clothes and baby blankets. And the outer coat of llamas is used to make rugs and ropes.
• The state symbol of Peru is the llama. It is special that lama is seen in many tourist products as well as in coins and stamps.