Bora Bora is a group of islands in the western part of the Society Islands of French Polynesia. It is located in the Pacific Ocean. The island is about six miles long and a little over nine miles wide. In the middle of this island, there is a dormant volcano as two peaks. The clear blue water around the island adds to the beauty of the island.
There are no words to describe the beauty of this island. This Bora Bora island is filled with so much beauty. You are lucky if you have visited the island of Bora Bora at least once. Most things here are expensive. As even the food items are imported to this island, they are also very expensive. But, you should not miss this island in your travel career. This island is one of the top tourist destinations in Google rankings.
The main industry in Bora Bora is tourism. Further, the manufactures of this island are largely confined to what can be obtained from the sea. As the island has a large number of coconut trees, it appears that copra is also economically important.
Coming here, you can experience volcanic views, beautiful lagoons, coral reefs, sunshine, resorts, snorkeling and scuba diving. The crystal clear water here is very popular among tourists. It is also special that experienced tourists have mentioned Bora Bora as one of the most beautiful islands in the world.
Bora Bora is an amazing island surrounded by small islands. Touring around here is really fun! The main mode of transportation for this is the boat. Here you first need to find out how to get around the island for the airport, restaurants, resorts and activities you can do. For this you can use boat, bicycle, scooter, public transport and taxi. So take an unforgettable tour around the amazing Bora Bora!
And from Tahiti to Bora Bora, flights take about 45 minutes and this will be the most beautiful flight you will ever experience.
Why is vacationing in Bora Bora so special?
With pristine white sand beaches, tourist-impressive clear blue lagoons, verdant vegetation perched atop volcanic peaks, and charming and comfortable resorts, Bora Bora is truly a beautiful tourist paradise. So, many tourists love to come to Bora Bora. The reason for this is that Bora Bora is home to many attractions that are constantly attracting tourists.
A vacation or a visit to Bora Bora will definitely be an unforgettable experience in your travel life.
Before you visit Bora Bora, here are some main things you should know ...
1. Visa regulations for your arrival in Bora Bora
First, it is important to find out if you need a visa for your visit to Bora Bora. You should also find other useful travel information about Tahiti currency, internet access and phone calls. Being aware of this information will make your journey easier.
2. The currency used in Bora Bora
The local currency of Bora Bora is the Pacific Franc (CFP). Arriving in Bora Bora, you can easily exchange your currency at Tahiti's Faaa airport before your arrival.
And the main town of Bora Bora, Vaitape town, has several ATMs and banks that will make your trip easier. It will also be convenient for you to have an ATM installed at the Bora Bora airport.
important :
The US dollar and Euro are accepted in some places. As a general guide, keep in mind that 100CFP is roughly $1.
3. Languages ​​spoken in Bora Bora
French and Tahitian are the official languages ​​among the languages ​​spoken in Bora Bora. If you are looking to visit Bora Bora, you should research the languages ​​spoken there before you go. English is widely spoken in the tourist areas of Bora Bora. And if you are looking forward to going to Bora Bora, if you try to learn some of the Tahitian and French words that are commonly used there, the Polynesians will respond warmly to you.
4. Communication in Bora Bora
If you want to make a long distance call while visiting Bora Bora, you must purchase an international phone card. These phone cards can be used to call home from all Tahitian islands. If you have a GSM phone, your phone may have international roaming. If your phone is unlocked, buying a SIM or international SIM card in Tahiti is faster. And if you expect to use a phone at the resort where you are staying, you should check the charges for calls beforehand.
5. Time zone of Bora Bora
When visiting Bora Bora, it is important to know the time zone. Its time zone is as follows.
Standard Time Zone : UTC/GMT – 10 hrs
Time Zone Abbreviation : TAHT – Tahiti Time
6. Bora Bora weather information
If you come to Bora Bora, it is important to know the weather information in Bora Bora before your arrival. Knowing about the weather conditions before coming here will help your trip. Bora Bora weather is divided into two seasons. That is, as a wet season (summer), and a dry season (winter).
7. Bora Bora population
Bora Bora has a permanent population of about 9,000. About 5000 of these live in the main town of Waitape. Others live in the villages of Anau and Fanui. Each village is indicated by the columns of the churches located village by village.
However, this is not a very crowded destination.
Places to visit in Bora Bora
Matira Beach
If you really want to enjoy the views of the beaches, this is one of the best places you should visit in Bora Bora. In this area of ​​great attraction, there are shops everywhere and small shops with snacks, bars and restaurants as you wish.
How to go to Matira beach?
Matira Beach is about five miles from Naitape (Bora Bora's main port).
Mount Otemanu
If you are a nature lover, visiting Mount Otemanu will undoubtedly be the first choice of your trip. Here you can indulge in activities like visiting ancient volcanic ruins and snorkeling. You can also visit the World War II ruins.
How to reach Mount Otemanu?
This mountain is located in the middle of the island. So the best way to get here is by car or rental scooter.
Bora Bora Lagoon Art Gallery
This can be termed as the most visited place by visitors. Therefore, this Bora Bora lagoon is very popular among tourists from all over the world.
How to get to Bora Bora Lagoon Art Gallery?
To get to Bora Bora Lagoon Art Gallery you need to reach Unitape French Polynesia. Since taxi services in Bora Bora are very expensive, finding a rental bike is much faster for you. It is also preferable to use a boat service.
Leopard Dress Trench
This place is famous for diving activities. Here you will have the opportunity to enjoy the view of clear water and marine life that can be seen clearly. If you are a skilled diver, a scuba diver or a marine life enthusiast, you will definitely love this place.
How to go to Leopard Dress Trench?
Leopard Rays Trench is located at the southern tip of Bora Bora. You can reach this place by boat ride or tourist transportation. Use a transport service of your choice for this.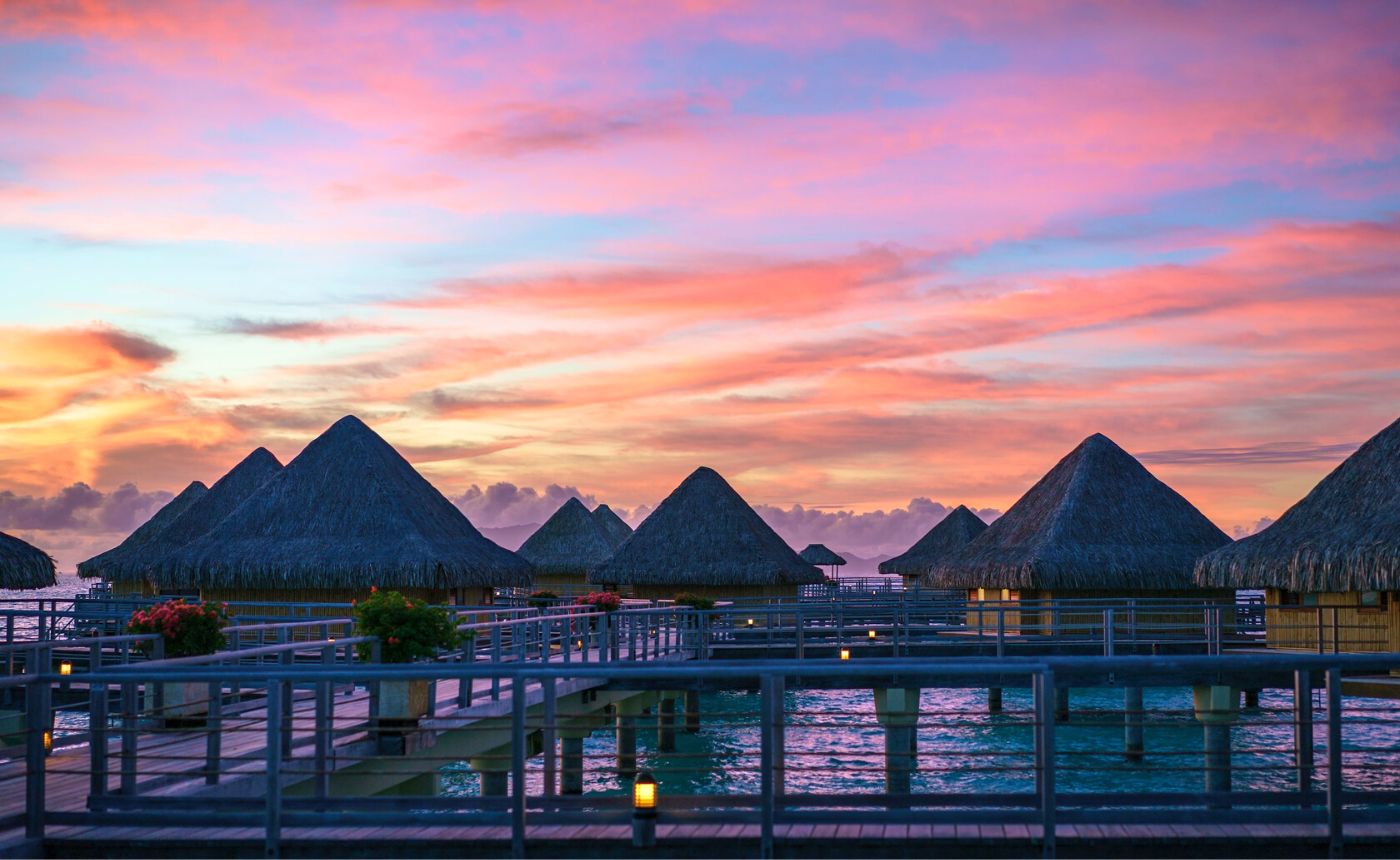 Finally,
Because, food and many other things needed in Bora Bora are imported from other countries, so many things here are very expensive. This is also a reason for the existing problems in transportation facilities. If you intend to come here, make sure you can actually afford these expenses. Also, don't forget that the best things come at a very high price. If so, may this be a happy destination for you!