Gurubewula farm is located in the village of Morawaka in the Matara District of the Southern Province with this amazing natural swimming pool. Actually, this place is a great place to take a bath. Situated in a beautiful environment, this natural swimming pool is fed by a blue clear water stream that flows from the Morawak Korala mountain ranges.
So, even if there is a lot of work, this is the perfect place to go and have fun with your family. For those of you who come here with your family or friends, there is also parking, where you can park your vehicles. Similarly, tourists coming from far away can see this wonder and go home the next day if they wish. Because a tourist accommodation with all facilities has been built in this place.
The farm also has a wonderful restaurant with superb food that can quench your hunger after a good shower with a little cold water. This is a great restaurant which you can satisfy your hunger. There are different types of food. So you can choose and eat what you like.
Gurubevula Farm
        So those of you who come to Gurubevula can create another wonderful opportunity. Before bathing in this natural bath, you can see a wonderful farm in this Gurubevula.
In fact, this Gurubevula farm is a wonderful human-made creation in the middle of a forest. Those who come to visit this farm can also see the different types of animals raised on this farm.
That means,
              • Goats
              • Sheep
              • Rabbits
              • Quail birds
              • Chickens
              • Mice
              • Turkey
          Several types of animals live on this farm. If you want to add many wonderful memories to your life, this is a great opportunity. When we see animals huddled together, we forget all our problems. There is no doubt about it. So come on. Experience this opportunity.
This is not just about raising animals on the farm. In addition to raising animals, the farm also produces yogurt and ice cream also. Those of you who come to visit Gurubevula Farm can taste these delicious yogurts and ice creams. Come on in, take a look and enjoy yourself!
Also, if you visit this farm, you can see the various crops that are grown on this farm using organic manure. That means, on this farm, pineapple plantations, large-scale pepper plantations, and various types of cultivation are carried out using organic fertilizers.
This is a really different experience. Bathing, eating, visiting a farm, tasting the food produced on a farm, and staying in one place… So, if you come to the Morawaka area of Deniyaya city, it is a different place where you can add a range of valuable knowledge to your life. Come when you can. This will be an unforgettable trip for you.
So, for those of you who come to visit this Gurubevula farm, having a guide to explain the details of this farm is really a very valuable thing. Because you can find out things, that you don't know by asking him. Then this journey will be another interesting one for you…
Gurubawla Beautiful Bungalow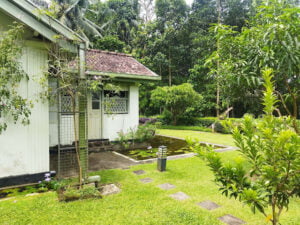 For someone who is thinking of doing a photo shoot, this bungalow is the right place. This is a great place to take some amazing photos. Those of you who come to see the farm, don't forget to come near this bungalow and take some beautiful photos.
important :
The people on this farm need to find the money they need to run the farm, so they charge you a small fee for tickets. But not a lot…
•  If you are going to visit the farm, you have to pay Rs. 150 and get a ticket.
• If you bathe in the natural swimming pool, you have to pay Rs. 300 and get a ticket.
Gurubevula Natural Swimming Pool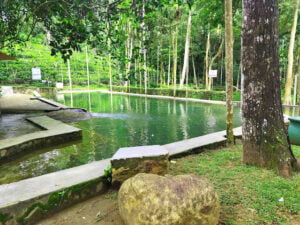 Gurubevula Natural Swimming Pool is located in the Morawaka village in Deniyaya town. Water flows into this natural swimming pool from Mount Morawaka. This natural swimming pool is 5.5 feet deep. To enter this pool you have to pay Rs. 300 and buy a ticket. Also, a baby pool has been built here where both adults and small babies can take a bath.
Built across a natural blue body of water, this swimming pool is a magnificent place surrounded by natural surroundings. The water in this pool is flowing and not dirty. As soon as you see this blue water, there is no doubt that anyone who goes here will jump into this pool and take a bath. Although it loses a great deal of depth, be careful when bathing …
Also, there is a beautiful Kumbuk field near this swimming pool. A really beautiful Kumbuk estate. Forget all the problems in your heart, this is a great place to enjoy your life… As soon as you can, come and see. You can see if this is true or not.
Important:
        This is a small request made by the people of this farm who want to come here with friends or family and have fun… Things like arrack and beer (alcohol) are not allowed here. So don't bring things like that when you come here…
Come with your family and friends to see the farm, take some beautiful photos, take a bath in this natural swimming pool and enjoy yourself to the fullest. If you come from far away, you can have a lot of fun, stay at the lodge here and go home the next day. Also, don't forget to take the polythene and plastic things you bring with you back home. Because it is a very beautiful place. A worthy place. Take care with love.
# Route to Gurubevula Natural Pool and Farm
• If you are coming from Colombo by the highway, you should leave the Imaduwa exit, take the Akuressa road to Deniya, and pass Morawaka town. Then you will find a school. After passing that school, when you came a little distance,  "Gurubevula" is written on the left side.
• If you are coming by train or bus, you should come to Galle or Matara and get on an Akurassa-Deniya bus. Then you can easily get down near Gurubevula Farm.
Gurubeula Farm Location Google Map
# If you search "Gurubevula" on the Google map of your mobile phone, you can easily find this place without any trouble.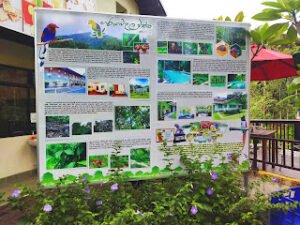 So, really a wonderful place. A very beautiful place where you can enjoy the coolness of a natural swimming pool and have fun with family and friends. Don't be late anymore. Come as soon as possible. Enjoy this experience too..