There are several lakes in Australia that have managed to surprise our eyes with pink water. Among them, Hillier Lake, which has attracted the attention of tourists, is in the forefront. 
We are surprised when we see some things that nature has gifted us. That means most of the things that nature has gifted us with are very wonderful. Among them, we came to know about the Hillier lake with pink water which has attracted tourists from all over the world.
This fantastic pink lake is located on the southernmost island of Western Australia. It is said that this lake is about 600 meters long and its width is about 250 meters. This lake is located next to the Pacific Ocean. It is reported that there is a species of tree like camphor around this lake. Records say that this lake was discovered in 1802. Information has also been revealed that this lake was discovered by Matthew Flinders, a navigator, and cartographer. He has mentioned in his diary that when he climbed a mountain near this lake, he saw this pink lake. Looking at this lake from the land where it is located, the pink colour of the water here isn't very obvious. However, the pink colour of this water can be seen clearly when you climb or look through a drone camera. Being located next to the Pacific Ocean, when you look up, you can see the clear contrast between the blue waters of the Pacific Ocean and the pink waters here.
Many tourists from all over the world come here every year to visit this breathtaking lake. What's the reason the water in this lake is pink? Did it happen due to a light illusion? Or is it caused by human activity? A definite solution to such problems hasn't been found so far, and it is stated that various investigations are being carried out. Why did the water in this lake actually turn pink? Various ideas and ideologies have been presented to this kind of issues that have arisen among all the people of the world. It has been reported by some that this lake has got this pink color due to the algae called Dunaliella Salina.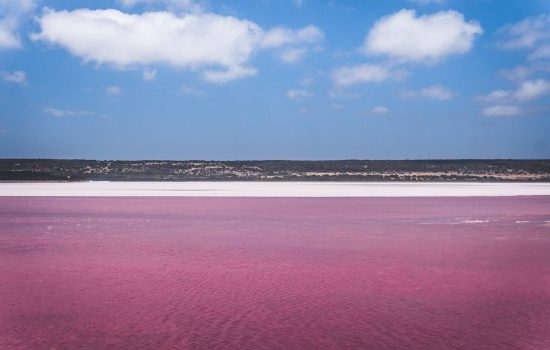 An investigation was done on this lake in 2015.  It has been revealed that organisms can't live in this water due to its high salinity. But, it has been investigated whether the lake got its pink colour because of organisms that can live in salty water. Then, information has been found that several types of Dunaliella algae and several types of bacteria who can live in salty water, are live in that lake. It is said that all the animals found there were pink and red. Because of their colour, scientists later concluded that the lake must have acquired this colour. Furthermore, this lake has ten times more salt concentration than other seawater. Some people also believe that this colour is the result of a reaction between these salts and sodium bicarbonate due to this high salt concentration.
Lake Hillier was used for salt production in the twentieth century. But as of now, this lake is only reserved for tourists. Tourists who come here like to go down to this lake and have fun, and scientists have mentioned that the water here isn't harmful to human skin. 
Another wonderful creation of nature is this Hillier lake. So, if possible, go and see this breathtaking pink lake.