This fort called Sigiriya is located in a village called Kimbissa in the Matale District in the Central Province of Sri Lanka. This fort is also known as Sigiriya, Alakamandawa, Sinhapura, Giri Fort, Sinha Balapura and Sinha Giriya. At a height of about 661 feet, this rock is a majestic natural formation.
# Important : 
Sigiriya has been named the Eighth World Wonder of the World, as enshrined in the UNESCO World Heritage List.
How did the Sigiriya rock form?
        Sigiriya is made up of cool igneous rocks that erupted from an eroded volcano. Rising above the plain on either side, this rock is unique in that it can be seen for miles on either side. This Sigiriya rock is sure to amaze every visitor. This Sigiriya rock is about 661 feet high and is precipitous on all sides.
If you visit Sigiriya, you can see butterflies, monkeys, parrots as well as various species of birds in the surrounding area.
# Important: Silence is important as there are a large number of bumblebees. If the bumblebees are aroused, you can imagine what will happen … so let's travel a little more carefully.
Sigiriya Fort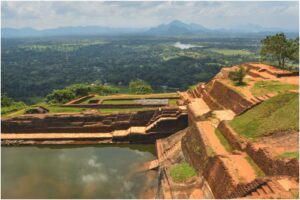 Legend has it that the Sigiriya Fort was built by King Kashyapa. This Sigiriya Fortress has a long history. Different people have expressed different views on this.
The name Sigiriya or Sinha Giriya is derived from the fact that it is built in the style of a majestic lion king at the foot of the rock which rises high to kiss the horizon. This lion king takes on a terrifying nature that stretches for miles, but he manages to captivate us as soon as he sees it. There is no doubt that this Lion King will be able to create a sense of grandeur in us, tourists.
If you are visiting Sigiriya:

• The palace at the top of Sigiriya rock.
• Sigiri  Lalanawan.
• Sigiriya Mirror Wall.
• Moats.


You can watch all of the above which can add a lot of great experiences to your life.
On the plain in the middle of the Sigiriya rock, you can see a lion's gate and mirrors with rough songs. The beautiful gardens with moats stretch hundreds of meters from the base of the rock to the delight of tourists. We mentioned earlier that this land has a palace and a fort. So the ruins that remain now show you the creativity and ingenuity of those who created it. As well as, to the right of this Sigiriya rock, there is a man-made reservoir.
As you climb to the top of the Sigiriya Rock, you will see a magnificent view of this reservoir as well as its surroundings. Although the top of the rock is shrouded in the sunshine, the cracked trees will provide you with shade.
Sigiriya is a treasure trove for all those who love to visit Sri Lanka. The city of Sigiriya is home to several other tourist attractions that have become one of the most popular tourist destinations in the world.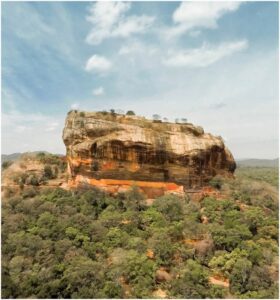 If you are visiting Sigiriya Fort, you'll have the opportunity to see not only the Sigiriya Rock but also many other attractions. So, even at work, this is a great opportunity to come to Sigiriya with your family and add a lot of interesting experiences to your life.
Map to Sigiriya
If you are coming to Sigiriya, places to visit:
    1: Pidurangala
    2: Ritigala
    3: Dambulla Temple
    4: Kaludiya Pond
    5: Minneriya National Park
So, here's a great opportunity to add to your family's unforgettable experience. Don't forget to come to Sigiriya and experience this wonderful experience ….
Watch Sigiriya Rock Video